Are you about to dig or excavate on private property? Whether you're a homeowner removing a tree or installing a fence, or a contractor hired to excavate for a client, it's vital to protect infrastructure, the public, and your employees by avoiding all buried utility lines.

Before digging, the best plan is to contact 8-1-1 to first mark out the public utilities, then reach out to a private locator for any utilities that 811 won't mark. Depending on the utility, 811 will only mark out lines up to the meter or even stop at the property line, and will not mark out lines that you or a contractor have installed, such as invisible fencing, site lighting, and septic systems. It's the responsibility of the property owner or contractor to contact a reputable private locating service, like Premier Private Locating to complete the job.

WHAT IS 811?
As stated on their website, www.call811.com, "811 is the federally designated call before you dig number that helps homeowners and professionals avoid damage to vital utility lines". Utility lines can include cable television, natural gas, electric, water, sewer and telecommunications. Utility companies have 48 hours to locate and mark their facilities after the 811 dig request.

DETERMINING WHICH ARE PUBLIC LINES AND WHICH ARE PRIVATE
Simply, a utility company owns and maintains public utility lines and cables, and the maintenance of them usually ends where the meter of the particular line is. The property owner is responsible for all lines not owned by the utility service provider, including secondary lines.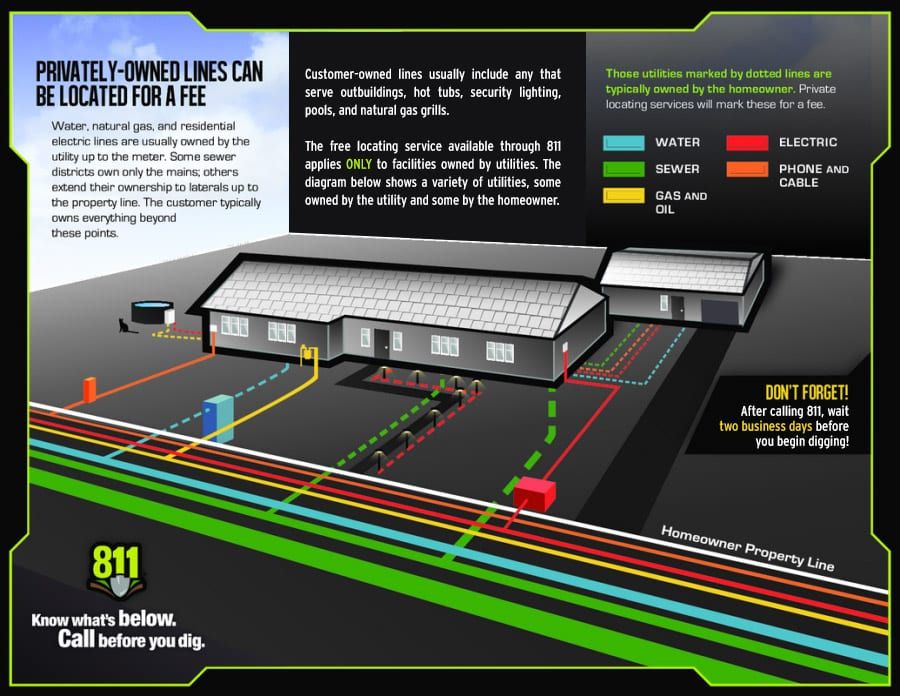 CALL 811, THEN CALL US BEFORE YOU DIG
Before you dig, trench, or renovate, the best plan is to call 811 and then a private locator like Premier Private Locating. We'll not only locate and mark privately owned utility lines, but also any propane and septic tank lines and power to detached outbuildings. Our Damage Prevention Services keep private residences, industrial buildings, schools and universities, apartment complexes, hospitals, and more fully protected.

Premier Private Locating will ensure that you're properly protecting your property, investments, and infrastructure. To schedule a private mark out, call 1 (866) 507-3010

NEED A PRIVATE MARK OUT?
Fill out the form below, or call us at 1 (866) 507-3010 for a mark out estimate.